SelectaGEN Program
---
Herd Benefits
SelectaGEN™ can help you use progressive genetics and still control inbreeding with a simple, easy-to-implement, program approach to breeding.
SelectaGEN was developed to control inbreeding.
This categorization allows optimal use of superior genetics. Mating across genetic lines not only reduces inbreeding challenges, but enhances the capture of genetic superiority with the effective use of genomic technology.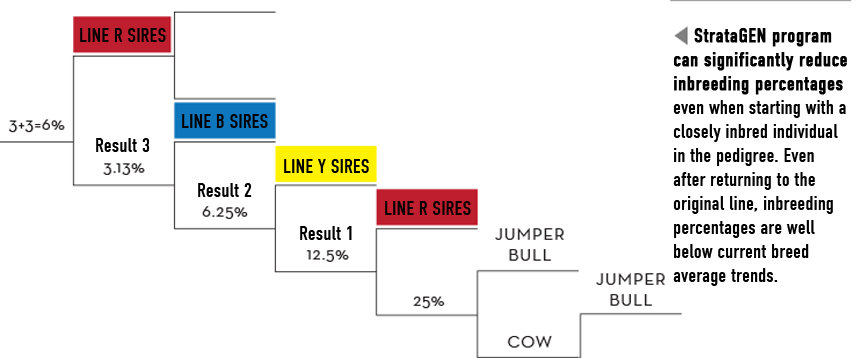 SelectaGEN is simple
SelectaGEN uses genomic insights to categorize both daughter-proven and young sires into one of four unique genetic lines based on common traits they have inherited from their ancestors.
Each line is identified with a single color – orange, blue, yellow or red. Color coding the lines makes it easy to understand and implement the system.
Sires will continue to be developed and introduced into the SelectaGEN program. Each sire will be genomic tested and categorized into the specific line matching their genetic make-up. The ongoing development of these five discrete and intensely selected lines will maintain line consistency and reduced inbreeding when crossing lines, while continuing to build genetic superiority.
Simplified mating lines
SelectaGEN was specifically developed with the success of your dairy herd in mind.
Sire selection is easier based on a genetic pool of sires, rather than individuals
Four different lines allow the selection of as few as three separate lines to achieve your specific herd breeding priorities and goals
Color-coding sires makes it easy to follow the pre-determined sequence
Management practices can be implemented to leverage the simplicity
Reduced record keeping and increased odds of compliance to herd plans
Sire supply and superiority has been pre-established in the SelectaGEN program and will be an ongoing commitment of Select Sires Canada' sire development program
Inbreeding challenges are reduced, and genetic progress is enhanced
By developing similar genetic lines of elite dairy sires, sires can be categorized based on genetic tests for both daughter-proven and young sires.
With this level of insight and strategy applied to a breeding system, matings made across specific lines offer tremendous reduction in inbreeding percentages when one line is crossed with the other.