SelectaGEN
---
Getting Started
A SelectaGEN™ program specialist will help each herd identify where to start.
The first step to implementing the SelectaGEN program is to identify the current genetic base and influence of the herd. This can be accomplished through a number of approaches depending on the herd's records, history and needs.
Options to establish a starting point include:
Evaluation of past semen purchased to identify common genetic influences
Review and study of herd record systems
Genomic and/or parentage testing of the herd or random cross segment of the herd
Begin the program with a starter line
The SelectaGEN program design
SelectaGEN was developed with the intention of a three- to four-line sequential rotation. The figure below illustrates how the lines might be used across discrete generations, then returning to the first line for the fourth generation. The use of three lines helps provide genetic intensity with minimized inbreeding; however, four line rotations are likewise options with SelectaGEN.
The choices and sequences of lines should be selected through consultation with a SelectaGEN program specialist, as part of a long-term commitment to the individual herd goals. The following illustration shows the line sequences rotation.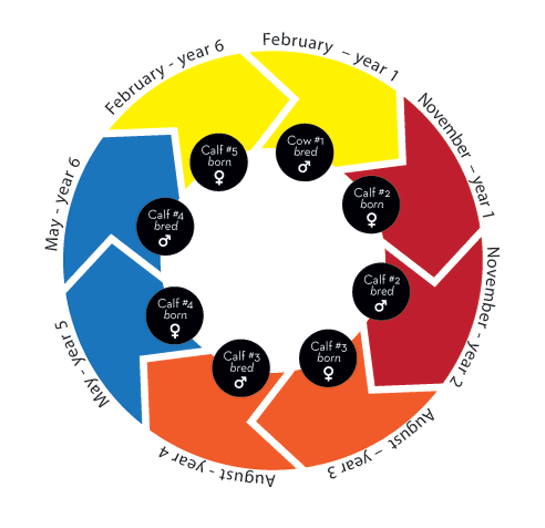 The use of these sequences would rotate for three, four or five generations before repeating. The use of all five lines is optional, but not necessary to capture the program benefits.
How is SelectaGEN implemented?
There are three options when implementing the SelectaGEN program into your herd:
Use the correct line identified for each individual cow using a three to five line system.
Use sires from the line most recommended for your herd and then identify resulting heifers with tags for lines to be used; gradually leading to three to five different tag colors in the herd.
Use sires from the line most recommended for your herd and then switch to sires in a new line after 21 months, the projected time frame when heifers from the first line used will be due to be bred with a new line.